PRESS
VOGUE. 
PICNICS ARE BACK! BUT WHICH PICNIC STYLE IS FOR YOU?
GENEVIEVE PHELAN3 SEPT 2021 https://www.vogue.com.au/fashion/trends/picnics-are-back-but-which-picnic-style-is-for-you/image-gallery/2cca4ea2d87720b32c47a75b678e2e3d
FASHION JOURNAL
IZZY WIGHT  11/11/2022
https://fashionjournal.com.au/fashion/katharinalou-melbourne-label/
REFINERY29.
17 Small Aussie Fashion Brands To Know Before They're Everywhere.
PEMA BAKSHI 28 SEPTEMBER 2022
https://www.refinery29.com/en-au/small-indie-australian-fashion-brands
THE OZ. Shop these Australian Designers Before They Blow Up.
GEORDIE GRAY, 23 SEPTEMBER 2022.

FASHION JOURNAL. DESIGNER PROFILES.
DEMURE MAG, ISSUE #01.
https://demuremag.com/design/katharina-lou
Katharina Lou was born out of wanting to create a positive impact in the fashion industry, where authenticity, transparency and craftsmanship are at the forefront of every project. I have always found comfort in wearing beautifully crafted pieces that make me feel inspired, confident and supported - like your best friend. Katharina Lou and the community I hope to continue building are exactly that. She's there for you when you need her most, inspired by the people in my life, who have shaped and supported me. What you wear for the heartbreak, the career successes, the highs and the lows. I hope to dress my mum, my best friend, the person next door and the kind stranger, to make them feel empowered and confident in whatever they do. 
With a mission to create sustainably, my designs are crafted thoughtfully and made to last. I work closely with a female owned and led block-printing studio in Bangalore, India to create my unique hand finished prints. This relationship is incredibly important to me as I wish for my practices to always celebrate craftsmanship. The artisans I collaborate with believe in sustaining the artform of block printing in its purest form, and through these prints and my designs, I hope to educate my community on the skill and story that is imprinted into each piece I produce. It's priotising this ethos that makes the process and my final product worth it everytime.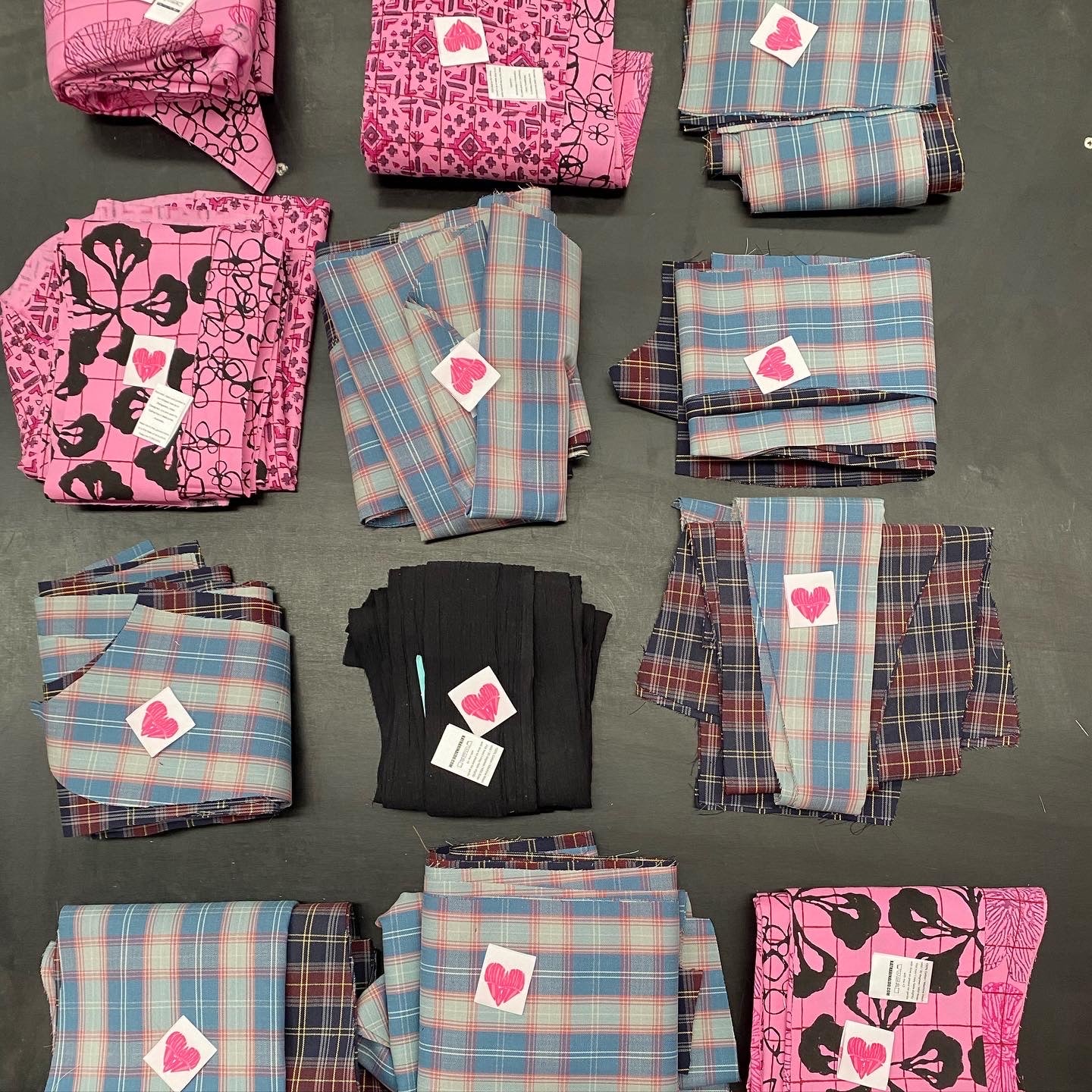 TRANSPARENCY & AUTHENTICITY.
As a designer and contributor in this industry, I'm ever conscious of my impact. Prioritising transparency and authenticity in everything I do is key to my personal values and brand. I proudly believe in honest conversations and virtually inviting my community into my studio to see how much it really costs to run a slow fashion label, what conscious waste looks like and how best to minimise it - as best I can. Creating a community and platform for education, shared passion and extravagance is at the core of my label and will always be my priority over consumerism. My hope is to continue designing and making pieces that make people feel empowered, loved, fabulous and heard.
SUSTAINABILITY.
I never want to create anything that won't be purchased and loved for a long time, so being sustainably responsible is at the forefront of all my practice. I am currently running a Made-To-Order model for most of my designs, and only when I sell a certain amount/ can't keep up with the demand of sewing them myself; will I put the pieces into production. I only do very limited runs of these at a local Melbourne manufacturer. This means I never have stock left over and nothing is created that isn't going to someone who has purchased it to treasure it.
All the fabrics I source in Australia are from deadstock suppliers, and for my original hand block printed designs, I source overseas. I am confident in these processes, ensuring that they are GOTS certified organic cotton, as well as the dyes being 100% Gots compliant.
I run my label at a low waste, my garments are designed and pattern made with the width of the fabric in mind so I can create more pieces in a roll or include the fabric in the garment. For the unavoidable offcuts I have designed a top called the "What's Left Top" that are all one off mis-matched pieces that have been very popular. I also create garments using textiles made from the smaller offcuts, including the fabric to make the hat capsule in my collaboration with Bianca Boyd Designs, as well as the patch detail on my t-shirt. This leaves only about a box of small, unusable textile waste each month that I have collected by UPPAREL where they are broken down into different materials and fabrics and recycled - converting waste into a resource.